It is always a better idea to measure the analytics to improve your SEO campaign. Without analyzing your data, it is indeed a tough job to know how your SEO has been flaring off lately and what effects it's been having overall so that you can improve on points it needs to be looked into.
According to Hubspot, 61% of people find generic traffic and lead their most significant marketing challenge. Google analytics is the most robust free analytics platform available and now I have curated 10 best ecommerce insights to check in Google Analytics.
And these metrics back a solid framework for the ecommerce businesses that look to measure their report.
The audience reports come under the real-time analytics, that's help you in understanding the audience coming to your site and tell you more about them. The audience section is actually an extensive one with around fifteen sub sections in it, every section giving you different reports.
Overview:
The overview section lets you have a good look at your current audience at a glance. It provides a detailed snapshot of the current audience metrics on your site, with information on users, unique users, pages views, bounces etc. the default time period is set at around a week, but you can always access the calendar drop down in the top right corner to customize your time frame.
Audience:
Do you want to target people who love sports?
So basically what google analytics does is that it segregates people on the basis of what they want, what they are interested in allowing you to identify a more specific target audience.
The audience interest section lets you target specific audiences based on their interest. To get started with this, you need to enable remarketing and advertising reporting features.
In this report you can actually see where your current users are located, the page they are visiting and how long they have spent on your page.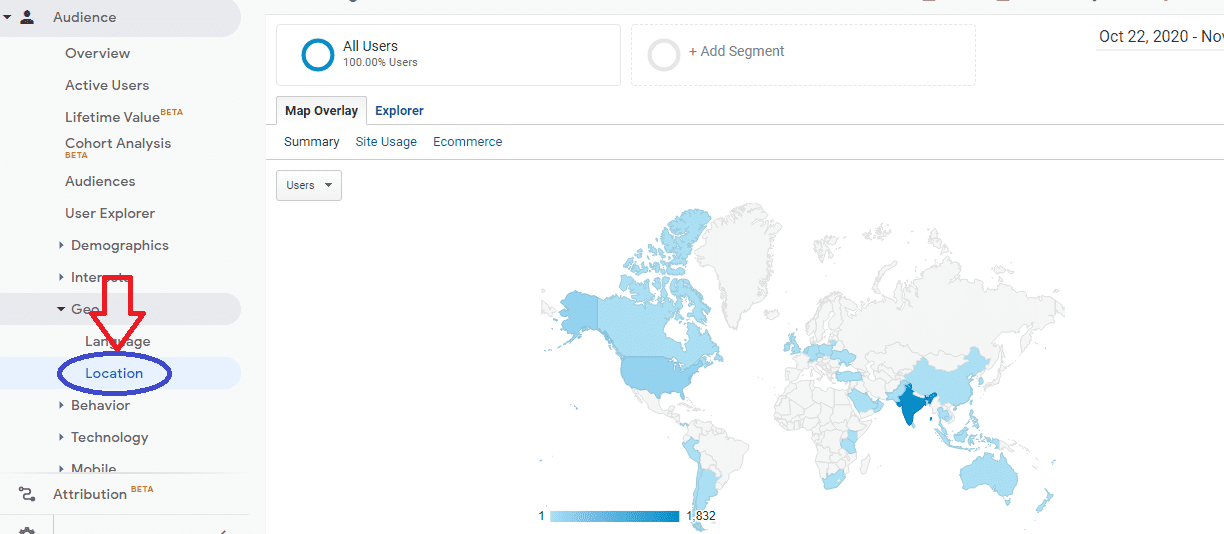 This lets you get an overview of where your audience is coming from and what language they speak.
3.Demograhpics for gender
This report allows you to gather specific information related to accurate age representation and gender of your audience.
For example, you can see the average session time of men aged between 23 to 30 during a specific period. 
You can indeed use these useful insights for shaping your contents better for ads and other marketing strategies.
Understanding what the users do once they get to your site is what helps in optimizing your site layout better. This report by Google analytics gives you a detailed pattern of how users move in your site and can be sorted by user type.
You can get really specific, for example, you can see where users from California start on your site and where they drop off on the site.
This data lets you know where people leave your site so accurately that you can make adjustments to that point more specifically.
This metric allows you to take a closer look at the user purchase behavior on your site more accurately. For example people reading in-depth posts about winter sweatshirts then make a purchase on your site?
To generally use this report, you must set up and track content.
Do you really want to know where your website traffic comes from? Google analytics report can help you understand where the site traffic comes from. And by tracking where they come from, you can see the traffic sources accurately for any specific pages, campaigns and measure the way people find your website.

Tracking traffic sources can help you understand your audience better by looking at their location and channels they use. You can also measure their marketing campaigns as well. You can find new content topics, focus on specific channels for best results, identify traffic gaps on your site etc.
To find the data, you should log in to your google analytics account and then go to acquisition>All traffic>channels.
Understanding consumers' buying journey can help you in many ways both technically as well as strategically placing your marketing campaigns.
Breaking down your Top Conversion Paths can help you identify your most profitable referral paths that accounts for conversion and also how many times the users interact with the channels before converting on your site.
The general report from google analytics shows every unique conversion path as well as the number of conversions from these said paths.
The time lag report usually shows how long a user takes before making a purchase on your site after first visiting your site. The report generally shows you an ordered list of the number of conversion paths that were 0,1,2,3,4,5+ days long, which will help in understanding the average length of your online sales cycle.
Understanding how long your customers take time to convert after first landing on your page can help you determine if your conversion window is set up alright in the AdWords.
9. Top pages by visitors & sales
Even the most trafficked pages aren't the ones with the most engagement ratio with the visitors. The engagement brings more sales and conversion than just the one with traffic. Even if half a million people land on your page leaving immediately, the traffic is strong but the engagement has already taken a big hit.
Traffic can be measured easily in Google analytics while calculating the engagement ratio might take up a bit of work that you can't do without breaking a sweat.
So how to find pages with most engagement?
First thing you do is to enter google analytics and set a long date range. Navigate to Behavior > Site Content > All Pages.
Click the "Comparisons" little dingus… then choose "Source/ Medium as your secondary metric
Now you should be able to see the pages with the most engagement factor.
The shopping behaviour is a stage by stage milestones graced by the customers on your website during their sales journey. In order to find the shopping behavior, you must have set up enhanced ecommerce reporting in your google analytics.
When you access your Shopping Behavior, the blue bar indicates the number of sessions involved in that step of buyer's journey.
The four bars represent the session involved with product views, add to cart, checkout and transaction.
These reports are helpful especially if you are into ecommerce businesses where understanding the audience pattern is much more important than it sounds. If you are running an ecommerce business, a robust free google analytics can be really helpful in planning marketing campaigns and reworking your AdWords.