Let's be honest here. E-Commerce has introduced a sales point vertical that lets you reach countless customers online.
No doubt you can take your business to the next level with organic e-commerce SEO. 
BUT….
There are a lot of doubts surrounding the world of E-Commerce SEO. Questions such as the following trouble even the most seasoned of entrepreneurs today:
What are the best e-commerce SEO practices?
How am I going to rank my product pages?
How do I optimize website in a way that both customers and search engines fall in love with it?
Paid vs. organic search traffic, what's better?
So, what's the workaround?
In short, strategically optimizing your site to followtake advantage of e-commerce SEO strategies is the answer.
I have discovered a few best seo practices for ecommerce that have helped my clients increase their ranking, organic traffic, Click-Through-Rates (CTR).
And in this article, I will share these e-commerce SEO best practices with you. I have included points to help you speed up your website, improve the e-commerce SEO score, find the gap in the market, and optimize your e-commerce store while giving out an organic look and feel.
Let's dig in.
Use customer reviews to boost the product's credibility
Whenever I shop for an expensive product or anything that falls in the $200+ price range, the customer reviews help make an informed buying decision.
I am not talking about the paid reviews by social media influencers. I am talking about the verified customers who've already invested in the same purchase.
When I see a few customer reviews, I click the "Buy Now" button.
If your website isn't already featuring such an element in your product review section, you need to get it featured as soon as possible.
Social validation is a vital factor in e-commerce psychology. People are tribal beings; we love assurances from like-minded people.
In e-commerce, customer reviews matter a lot. Plus, Google and other search engines use Schema and rich snippets to highlight user-generated reviews and start ratings.  
Analyze your competition to find market
I know this may come off as an off-topic point but finding the market gaps will help you get more clicks on Google.
Let's say that you want to purchase a particular product.
Hypothetically, you are searching for a "Seeding Tray for Tomatoes."
In this case, there might be seeding trays suitable for various other vegetables and plant seeds, but there isn't any seeding tray designed for tomatoes specifically. 
You can modify your products slightly and place your place to fill this gap.
Customers searching for "Seeding Trays for Tomatoes" will gradually start seeing your e-commerce site on the top stop of SERPs (Search Engine Results Pages).
When customers see the exact match for their inserted keywords, they are more likely to click on the result.
More organic CTR on the SERP will help you boost your overall brand value in the eyes of leading search engines.
So, long story short, closely analyze your competition to dig out what they are missing and modify your existing products to place yourself as a viable solution.
Following this strategy, you not only one-up the competition, but you also eliminate future competition in the same segment.
Keep your design simple and intuitive
A slider here, a upsell popup there….. and in a few days, you end up dealing with a cluttered e-commerce web design.
Leading e-commerce sharks don't use that many web design elements. To be honest with you, they use simple design language.
But why?
To keep things simple and give each element enough space on the canvas.
As an e-commerce business, you must understand the value of your customer's attention. The more elements you have on the web page, the greater chances of distracting them.
If they are on your e-commerce website, they want to spend some money.
There's no point in showing them hundreds of elements with the same information. When it comes to e-commerce, simple is better. Also, It helps people to spend more time. This increases your customer dwell time.
Think from your target customer's point of view & write content
When running an ecommerce business, many people forget the point of view of their customers. They think from a business point of view.
You can use keyword research tools such as Ubersuggest and SEMRush to dig out most searched and relevance search terms. To get the whole picture, you can also visit niche blogs and community forums in your niche.
A business's job is to sell as many products as possible. I mean, that's the whole point, right?
But it's your customers that are going to spend money on you.
Be it a B2B or B2C business model, you must factor in the following:
Your customer's expectations.
What the industry problems and their pain points are.
What kind of shopping experience are you offering?
Once you address these three questions and tweak your e-commerce site accordingly, you will start seeing a better CTR and overall growth in your sales because your customers can now easily relate to the product and services you are selling.
Focus on the homepage SEO
This is where most e-commerce brands fail. They don't spend time working, tweaking, and optimizing the homepage of their e-commerce website. Some e-commerce site's homepages are left untouched for years until the next design revamp.
This is where professional e-commerce SEO experts beat you.
Having a poorly optimized homepage will stand in the way of your website's long-term and short-term growth.
So, focus on tweaking a few elements on your homepage. Take inspiration from popular e-commerce portals such as Amazon, E-Bay, and Etsy to figure out what works in a particular industry. You can even analyze some medium-scale e-commerce brands to get a clearer view.
The image below illustrates various details that e-commerce giants have added to their homepage to increase the organic CTR and sales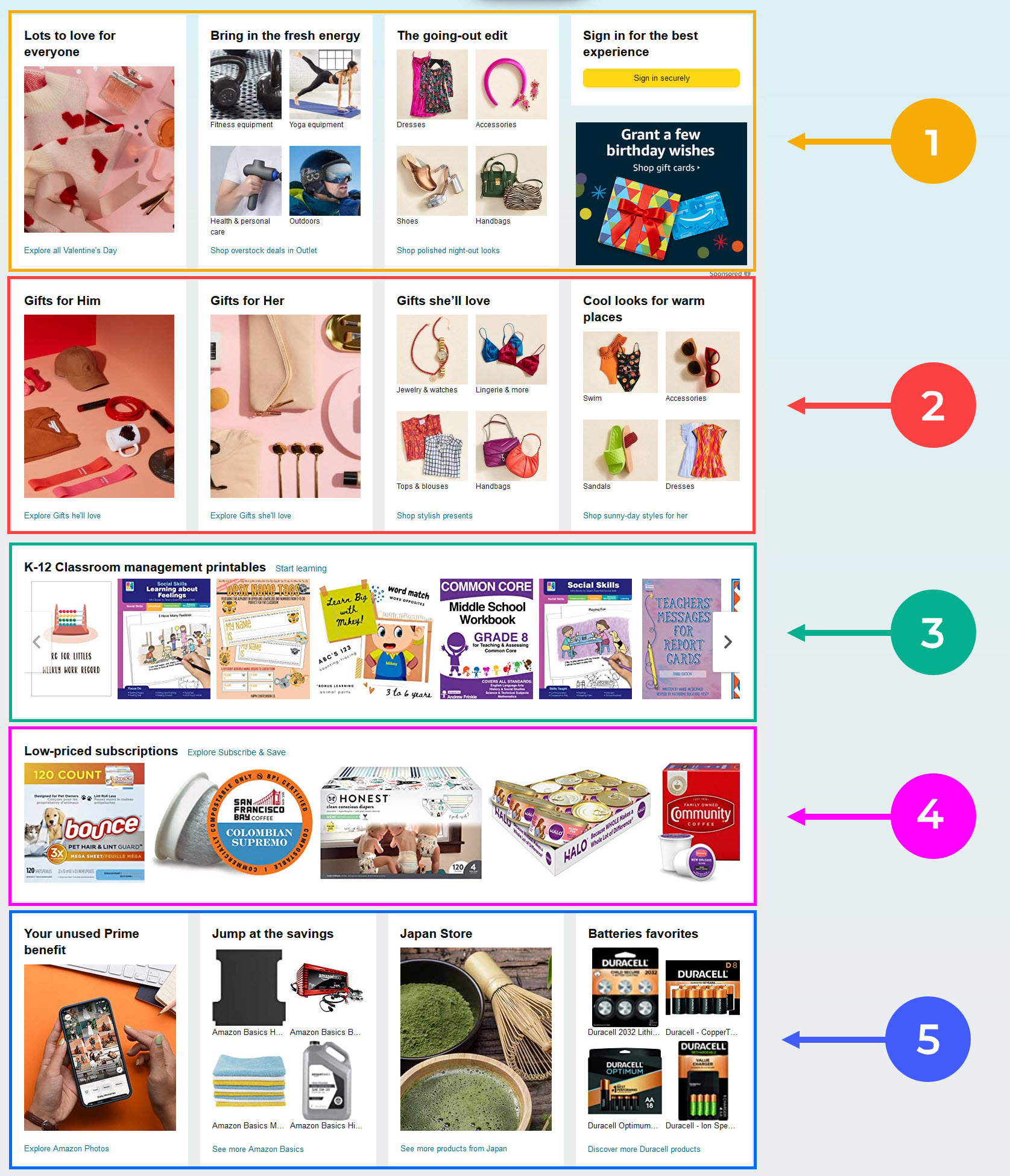 Limited time sale is highlighted at the very top of the page. Depending on the time, these elements are changed either automatically or manually.
Seasonal offers to attract new and returning customers. Again, depending on the occasion, these products and categories change .
Pre-teen or academy-related items and categories.
The low-priced subscription doesn't need a large payment. Easy to sell and market.
Favorite and best sellers from the most frequent shopping category.
There are some other categories on the homepage of Amazon. You can go visit the app or the website to explore more.
A similar trend can be noticed with other e-commerce sites with such market command.
What can you take away from these market leaders?
Modifying the homepage and customizing it daily to relate to the customer helps convert prospects into paying clients and existing customers into repeat ones.
That said, for this strategy to work like a charm, you need real-world testing and tweaking.
Use a CDN to improve content delivery
What separates an online business from an offline business?
The reach.
An average AWS server can handle medium-scale e-commerce website requests without breaking a sweat. But things start getting slow when your customer-base scales exponentially.
A traditional web server might experience downtimes. Customers from specific geographical locations may have to deal with a slow-loading website.
What's worse than a poorly designed e-commerce website? A slow-loading website.
A slow-loading website is frustrating. It will compel even loyal customers to look for alternatives.
The best workaround for slow page loading time is to use a Content Delivery Network.
What's a CDN?
In simple terms, it is a network of cloud computers with a much better global reach.
Sign up for a CDN service and future-proof your e-commerce business
Insert informative ALT texts for product images
If you have been doing SEO or reading SEO articles, you already understand the importance of image alt tags.
The alt tag is displayed if an image on your website fails to load.
In addition, search engines use alt tags to determine the context behind an image.
If you are selling a high-priced sneaker and your brand name is ABC Lifestyle, your Alt tag should be similar to "Trendy Sneaker from ABC Lifestyle."
Trendy is the name of your sneaker.
You can also use the product title as your image alt tag.
Google will not be able to determine the relevancy of your image if it doesn't have any ALT tag. Having an ALT tag will increase your chances to driving traffic from image search results.
Provide descriptive product descriptions on the products page
On countless occasions, I have seen e-commerce businesses use short descriptions.
You barely get any detailed information about the product. The customer has to rely on your promises to get a quality product.
But what's wrong with that?
Well, product descriptions must share all relevant information about a product. Failing to produce relevant information in the product description increases the chances of a refund.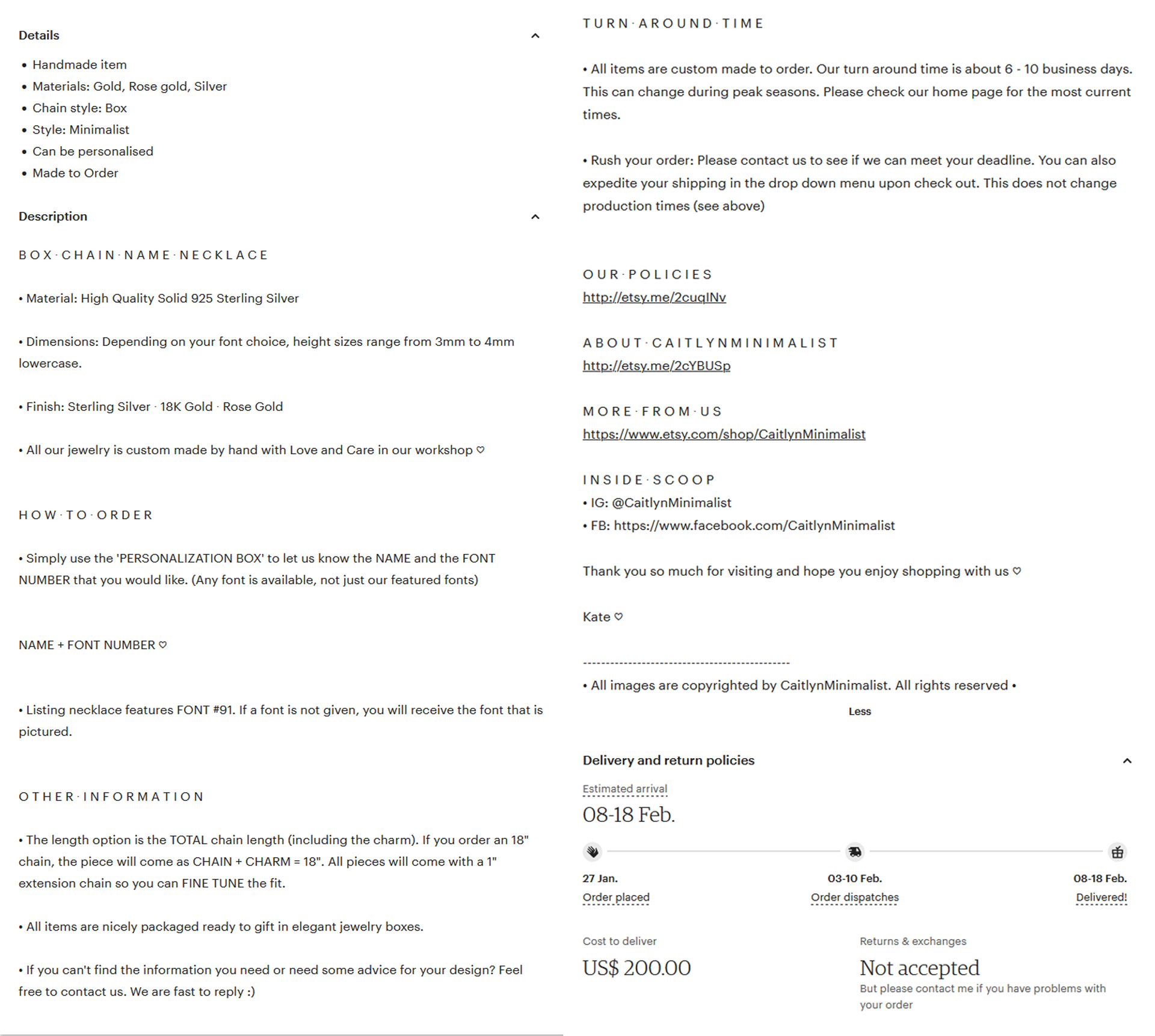 Furthermore, an incomplete product description will make your product page thin. Google and other search engines will not properly categorize your product.
You need to add as much content with relevant LSI keywords to the description as possible. Also don't forget to add video and infographics to the page because this helps people to spend more time on your online store.
That said, you need to remember —Relevancy is the key here.
Keep URLs short with the primary target keyword
Whenever I audit e-commerce portals, I detect a pattern.
Either the URL of the product page is unreadable or too long.
Google loves short links.
If you are selling Nike T-Shirt, your product URL should be something similar to the following:
Yourshop.com/premium-nike-tshirts/
Yourshop.com/nike-tshirts-sale/
In addition, having such short and descriptive URLs will help your customers identify the product page easily as it is far easier to remember and recall.
You can easily improve your e-commerce site's overall SEO score by implementing these basic optimization techniques. These strategies coupled with high quality, relevant search traffic from search traffic will help you in eventually growing your search presence drastically.
Wondering how to properly optimize your e-commerce SEO, check out my step by step ecommerce SEO guide to master the art of ranking e-commerce website the right way.